Bespoke Architectural Woodwork,
Fine Finishing,
& European Specialties
for the most discerning Clients.
please scroll down

BESPOKE WOODWORKING, FINE FINISHING SERVICES, & EUROPEAN SPECIALTIES
Our clean, state-of-the-art 14,000sf production/showroom facility in Greenville, SC allows us to perform woodworking & finishing ranging from authentic Antique to the most Modern Euro trends- and everything we do is to our Client's custom specifications.

We work with leading Architects, Interior Designers, General Contractors, as well as, directly with Owner/End-Clients, both on regional high-end Residential & select Commercial projects from Atlanta to Charlotte and from the Mountains to the Coast.

Please call +1.864.907.9870 to schedule a personal appointment either in our Greenville showroom or at your location!
BESPOKE WOODWORK


RESIDENTIAL
Fine Kitchen & Bath Cabinetry
Solid Wood Entry & Interior Doors
Custom Paneling & Joinery

COMMERCIAL
Luxury Retail Displays
Exquisite Conference Tables
Custom Cabinetry, Paneling, & Lamination
CNC production

​Design & Installation services

FINE FINISHING


CUSTOM FACTORY FINISHING
Fully enclosed, world-class Finishing Booth & Clean Area.
Custom Stains, Glazes, Oils, & Paints
Replica Distressed Finishes up to Modern High-Gloss Finishes

​Contract Factory Finishing.

EUROPEAN SPECIALTIES


Exclusive access to Specialty Materials and Our Master Craftsmen Partners throughout Europe via AIC|LUXURA GROUP.

Authentic Antique Parquets (1700-1920's)

European Vieux Bois (Old Wood)

Modern European Windows, Sliding, & Folding Doors.

​

Click here for more information...
BACKSTORY
ALUXURA Woodworking & Finishing - A culmination of Family, Experience, & Vision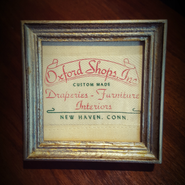 Family History of Craftsmanship
My Grandfather on my mother's side came from a long line of craftsmen and artists in Italy. He became a Master Upholsterer in New York City with French & Co., ultimately starting his own business, Oxford Shops, in Connecticut. Some of his more visible works include production and installation of interior furnishings for DuPont's Winterthur in Delaware. Grandfather Anderson was a home builder in Pennsylvania, and he passed his work ethic and craftsmanship skills on to my Father and beyond. Over the years, my Father has shared his knowledge and skills with me, and I have always had this foundation to build upon.
Vision & Concept:
American Ingenuity and European Quality
With degrees from both Clemson University and the University of South Carolina, my years in international business have allowed me the opportunity to visit hundreds of production facilities and designers
in over two dozen countries and
in multiple industries. ​It seemed to only make sense to bring it all together- to combine our family background & work ethic with my personal experience and European connections into one entity to deliver premium, custom architectural woodwork and finishing in the USA. Hence, ALUXURA was born.
ALUXURA aims to be a known as a regional leader in custom architectural solutions in finished wood, metal, and specialty European materials.
To achieve this vision, ALUXURA's Woodworking & Finishing facility in Greenville, South Carolina delivers custom architectural woodwork and fine finishing services. ALUXURA incorporates collections from AIC|LUXURA GROUP's European partners, and we can also source antique pieces or provide reproduction pieces. Of course, the most important component is the ALUXURA Team, including seasoned woodworkers and finishers with over 60 years combined experience.
We at ALUXURA look forward to the opportunity to work with you, and we would be happy to show you around our showroom and shop!
​Sincerely,
Mark C Anderson, CEO